Messiaen · Wagner / Rattle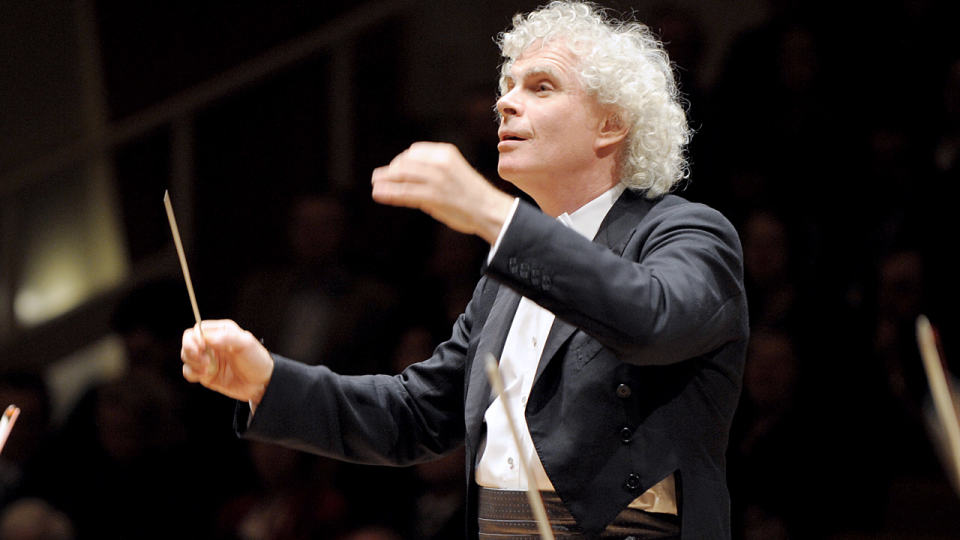 11/09/2008
Berliner Philharmoniker
Sir Simon Rattle
Pierre-Laurent Aimard

,

Tristan Murail
Richard Wagner
Prelude and Liebestod from "Tristan und Isolde" (21:29)

Olivier Messiaen
Turangalîla-Symphonie (01:18:49)

Pierre-Laurent Aimard Piano, Tristan Murail Ondes Martenot
Aficionados have been looking forward to these weeks immensely, and they have reason to – as the musikfest berlin 08 assembles some of the world's most outstanding orchestras, lead by the Berliner Philharmoniker and their principle conductor Sir Simon Rattle. This season Sir Simon and his musicians have chosen compositions for which the term 'key works' seems rather inadequate: does it really pay tribute to Richard Wagner's Tristan und Isolde? Hardly. The work is much more than a key. And the Turangalîla Symphony by Olivier Messiaen, whose 100th birthday is being celebrated by the music world this year, stands like a monolith. Presenting both works together in a concert programme (although obviously not the complete Tristan, 'only' the prelude to Act 1 and Isolde's Liebestod), is a wonderful idea..
Love-Songs
Music Dramas by Wagner and Messiaen
The tragic conflict in Richard Wagner's Tristan und Isolde, first performed in 1865 in Munich, is largely played out, not through an intensification of verbal language or situations, but rather in this immense work's extraordinarily symphonic conception (which begs the question: is it really an opera at all?). An exception is the lovers' great dialogue in Act II, their intimate nocturnal communion – so far removed from the external world – into and out of which everything flows. In the final act there remains only one possibility: the death of love or "love-death" – a death outside of time and space.
Tristan und Isolde is arguably Wagner's most perfectly realized composition, a drama that succeeds in uniting two opposing forces: overflowing life and a deeply internalized longing for death. These energies and the lovers' emotional states are already encapsulated in the Prelude, based on a four-note chromatic phrase first heard on the oboe. More critical ink has been spilled over this extraordinary composition, whose harmonic audacity is often credited with ushering in modern music, than perhaps any other in history. Berlioz, who confessed in 1860, that he hadn't the slightest idea of what the composer intended, heard it as "a slow piece, beginning pp, rising gradually to ff and then subsiding into the quiet of the opening, with no other theme than a sort of chromatic moan, but full of dissonances, whose cruelty is further accentuated by long appoggiaturas which completely replace the true harmony-note". Wagner, writing in the same year, described the introduction to his "love drama" as "one long breath" in which "unfulfilled longing swells from the first gentle tremor of attraction, through half-heaved sighs, hopes and fears, laments and wishes, joy and torment, to a resolute attempt to find the opening of a path for the heart into the sea of endless love's delight. In vain! Its power spent, the heart sinks back to pine of its desire – desire without attainment."
Olivier Messiaen, possessor of Wagner scores and admirer of the music since childhood, composed his Turangalîla Symphony – the second work in a trilogy based on the Tristan and Isolde myth – in 1948 to a commission from Serge Koussevitzky and the Boston Symphony Orchestra. Leonard Bernstein conducted the premiere at Symphony Hall on 2 December 1949.
The name Turangalîla is Sanskrit, a combination of lîla, meaning "play" or "game" – in the sense of divine action upon the cosmos, the play of creation and of destruction – but also meaning "love", and turanga: "time" that passes like a galloping horse and flows like the sand in an hourglass. Messiaen, for whom the most important things were, in order, God, love and nature, called it "a song of love and a hymn of joy": this vast work for monster orchestra with enormous percussion section, coloured by the electronic whistling and shrieking of the ondes martenot, and a heroically demanding solo piano part, written for Yvonne Loriod, one of Messiaen's composition pupils and later his second wife.
There are ten movements in the Turangalîla Symphony. The Introduction, in two sections linked by a piano cadenza, presents two of the work's main musical ideas, the monumental "statue" theme introduced by trombones and tubas, supported by the first appearance of the piano and ondes martenot, and the delicate "flower" theme, briefly introduced by two clarinets. Chant d'amour 1: The first "song of love" alternates two violently contrasting aspects, carnal passion (trumpets) and tender idealism (ondes martenot and strings). Turangalîla 1: An episodic movement based on three themes – gently nostalgic (ondes martenot, clarinet); powerful (heavy brass and jangling "gamelan"); lyrical (oboe with clarinet and flute). Chant d'amour 2: A moderately paced movement with two contrasting ideas (heard first in succession, then superimposed). Before the serene ending, a brief piano cadenza ushers in a recall of the "flower" and "statue" themes. Joie du sang des étoiles: The scherzo movement brings an ecstatic climax, a frenzied "African dance" (Messiaen) alternating with a rhythmically complex trio section and ending with the "statue theme" in triumph. Jardin du sommeil d'amour: The symphony's slow movement, with the "love theme" on ondes martenot and muted strings, ornamented by vibraphone and glockenspiel and piano birdsong. Messiaen writes: "The two lovers are immersed in the sleep of love. A landscape has emanated from them. The garden which surrounds them is called 'Tristan'; the garden which surrounds them is called 'Isolde'. This garden is full of light and shade, of plants and new flowers, of brightly coloured and melodious birds… Time flows on, forgotten, the lovers are outside time. Let us not wake them." Turangalîla 2: A brief, sinister movement, introduced by a piano cadenza, with percussion interludes and featuring a recurring "fan" idea (ondes martenot, trombones) that opens and closes. Développement de l'amour: The development of the symphony's main themes and of the love between Tristan and Isolde. Turangalîla 3: Variations on a theme announced by the clarinet but dominated by percussion playing complex rhythmic layers on a cushion of strings. Final: In sonata form with a jubilant brass fanfare as first subject and a quick, barely recognizable version of the "love theme" (ondes martenot and strings) as second subject. In the coda, the "love theme" at its normal slow tempo emerges in full glory.
Sir Simon Rattle appears by kind permission of EMI Classics.