Schumann · Wagner · Lutosławski / Boder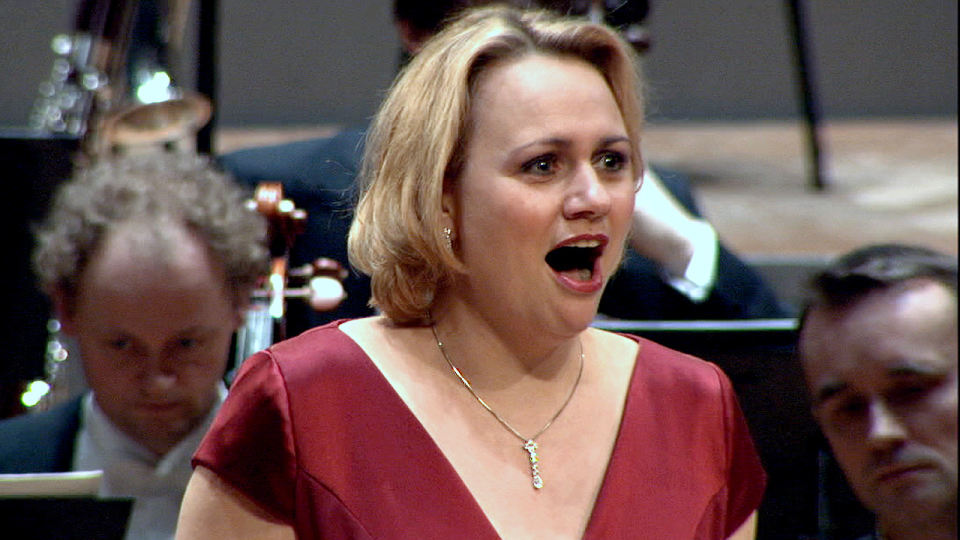 14/03/2009
Berliner Philharmoniker
Michael Boder
Anja Kampe
Elliott Carter
A Celebration of some 100 x 150 notes (05:04)

Robert Schumann
Symphony No. 3 in E flat major »Rhenish« (36:37)

Richard Wagner
Wesendonck-Lieder (24:46)

Anja Kampe Soprano

Witold Lutosławski
Concerto for Orchestra (33:11)

free

Michael Boder in conversation with Fergus McWilliam (19:19)

Fergus McWilliam, Michael Boder
Perhaps his anniversary got slightly lost on in all the Messiaen excitement. Which is why it is worth remembering an American composer, who celebrated his 100th birthday last December, and whose significance for the history of music should certainly not be underestimated. This tribute is owed to Elliott Carter, who is still widely underestimated. And this concert offers an occasion and opportunity to subject this preconception, which certainly equals a misconception (unless one is a rather ardent proponent of the serial dogma and inclined to a slightly narrow-minded disposition), to a sounding revision. For example by listening to Carter's A Celebration of Some 100 x 150 Notes – an opus just sparkling with bright ideas. The same reverence also applies to both of the other orchestral works presented in the course of these evenings: Robert Schumann's Third, so-called Rhenish, Symphony meets Witold Lutosławski's Concert for Orchestra. And then there's another champion of the "Gesamtkunstwerk" (total artwork): Richard Wagner. But no fear, not the complete Ring is presented here, just the Wesendonck Lieder song cycle, a highly recommended treasure, particularly in conjunction with the soloist Anja Kampe.
Four good reasons to write good music
A slice of Rhineland life: Schumann's Third Symphony
"The local musical scene has exceeded all our expectations, and I am very much looking forward to my future sphere of activity here", Robert Schumann reported from Düsseldorf on 13 September 1850. Buoyed up by the euphoric reception that he and his wife had received in the city, he not only threw himself with tremendous enthusiasm into his new job as the municipal director of music but he also began to compose prolifically again. In what little free time they had left, the Schumanns explored the Rhineland together, and so we find Clara Schumann noting in her diary in late September: "On Sunday the 29th, by way of a change, we drove to Cologne. The city delighted us the moment we saw in from Deutz, above all the sight of the magnificent cathedral, which surpassed our expectations even when we examined it at close quarters." Schumann himself visited the unfinished cathedral for a second time in early November and was once again profoundly impressed by the building. Immediately afterwards he began work on the actual composition of his Third Symphony, completing the piece within a month and conducting its successful first performance with the Düsseldorf Music Society Orchestra on 6 February 1851.
The unusual formal conception of the Symphony No. 3 in E flat major op. 97, together with its musical language and expressive content, encouraged even the composer's contemporaries to interpret it as programme music. Following the Düsseldorf performance, one local critic thought that he could hear in the piece "a slice of Rhineland life in all its jovial freshness". And in a letter to Schumann, the composer and critic Richard Pohl described the work as an instrumental drama "that culminates in the fourth act. I should like to give this fourth movement the heading 'In the Cathedral at Cologne'". Schumann himself shied away from such programmatic definitions and yet he also left a handful of remarks that suggest a link between the E flat major Symphony and the Rhineland as a subject. It should come as no surprise, therefore, to discover that it was not long before the work became known as the composer's "Rhenish" Symphony.
The most unusual movement of the Third Symphony is undoubtedly the fourth, marked "Feierlich" (Solemn). With it, Schumann broke with the convention that a symphony should have four movements and introduced an additional movement which, although independent, none the less serves as a vast introduction to the actual finale. It forms not only the inner core of the symphony but also its thematic heart, providing a focus for all its different strands. The listener is reminded not only of Bach but of the style of older church music in general.
Tristan Studies: Wagner's Wesendonck Lieder
In May 1849, Wagner was forced to quit his post as Kapellmeister to the Royal Court of Saxony and flee from Dresden with a price on his head as a result of his involvement in the politics of revolution. He and his wife settled in Zurich, where in the spring of 1857 they accepted an invitation from the wealthy silk merchant Otto Wesendonck to move into a small house on his estates away from the bustle of the town centre. Wagner spent his first few months in his new home working on the score of Siegfried, but by August he had thrust aside the still unfinished third part of the Ring and started work on Tristan und Isolde. His work on the opera was fired by his increasingly close relationship with his benefactor's young wife, Mathilde, to whom the composer – some fifteen years her elder – felt amorously attracted. During the ensuing months, Wagner not only dedicated sections of the score of Tristan und Isolde to Mathilde, who had literary gifts of her own and who was deeply interested in music, but he also set five of her poems to music.
The Wesendonck Lieder are closely related to Tristan und Isolde not only in terms of their genesis but also in respect of the world of expression that they inhabit and even their musical language. In condensed form, the song "Träume" (Dreams) contains all the elements from the great love scene in the second act of the opera and was orchestrated by the composer himself on the occasion of Mathilde's twenty-ninth birthday in December 1857. He seems to have held this song in particularly high regard, for we find him writing to Mathilde from Vienna on 28 September 1861: "I also discovered the pencil sketch of the song that was the inspiration for the night scene. God knows, this song pleased me better than the whole proud scene! Heavens, it's finer than anything else I've ever done! To hear it thrills me to my deepest fibre!"
Orchestral virtuosity: Lutosławski's Concerto for Orchestra
"My favourite instrument is the orchestra itself", Witold Lutosławski once admitted to an interviewer. "The possibilities that slumber within the orchestra have always fascinated me and appealed to my imagination." Against the background of this declaration of love it is not surprising to find the Polish composer placing the medium of sound at the very heart of one of his own compositions. Following in the footsteps of Béla Bartók he wrote a Concerto for Orchestra that dates from the early 1950s and that was soon to become one of his most popular compositions.
And yet the genesis of the Concerto for Orchestra coincides with one of the darkest periods in the history of Polish music. From the late 1940s onwards the world of Polish music was increasingly subjected to political interference by the country's Communist rulers. In an attempt to survive this period of political change, Lutosławski concentrated on writing functional works and pedagogical pieces. It was a situation that was unsatisfactory from every point of view. But Lutosławski was then invited to write a longer work for the newly formed Warsaw Philharmonic Orchestra: "It was a critical moment in my life, and the proposal was a way out for me; it helped me to get over my emotional crisis." An important starting point for his Concerto for Orchestra was the composer's interest in Polish folk music, much of the work's thematic material being based on folksongs from the region of Mazovia around Warsaw, but these songs are not simply quoted literally. Rather, they are transformed by various procedures that allow them to be used in highly specific ways. It is in this individual approach to his sources in his country's folk music and in his virtuosic and subtly differentiated handling of the orchestra that Lutosławski was able to overcome his own artistic crisis to such impressive effect.
A Celebration of Some 100 x 150 Notes
For centuries writers have argued over what constitutes a good title and the functions that it should fulfil. In his Hamburgische Dramaturgie of 1769, Gotthold Ephraim Lessing insisted that "a title should not be a menu. The less it reveals about the contents, the better." Two hundred years later Umberto Eco went a stage further: "A title should confuse ideas, not impose any order on them." Even if the title of Elliott Carter's A Celebration of Some 100 x 150 Notes may not cause confusion and even if it cannot immediately seduce its listeners, it is still a surprising choice of words. But on closer examination, we shall find that the unusual title of this densely compressed piece – it lasts less than four minutes – does in fact make sense. In 1986 Carter, who celebrated his one hundredth birthday in December 2008, wrote a fanfare for the Houston Symphony Orchestra on the occasion of the sesquicentenary of the state of Texas. The circumstances of the commission inspired him to set himself an unusual challenge as a composer. The figure of 150 not only determines the tempo of the piece (150 beats a minute), but the work consists of exactly 150 bars. Within this self-imposed framework, Carter creates an exciting "concerto" made up of eleven different fanfares that are distinguished from one another in terms of their intervallic material and individual character.
Tobias Bleek
Translation: Stewart Spencer
Michael Boder has been general music director of the Teatro Liceu in Barcelona since the start of the current season. He trained at the Hamburg Academy of Music and also in Florence. He was not yet thirty when he assumed the position of principal conductor of the Basel Opera, where he remained from 1989 to 1993, during which time he also appeared in Hamburg, Cologne, Munich, Berlin and at the Royal Opera, Covent Garden. Since then he has conducted on many occasions at the State Operas in Munich, Dresden, Berlin and Vienna. He attracted international attention when he conducted Willy Decker's new production of the two-act version of Berg's Lulu in Vienna in the spring of 2000 and enjoyed tremendous personal acclaim in Berlin with the world premieres of Pascal Dusapin's Faust in January 2006 and of Hans Werner Henze's Phaedra in September 2007. Other engagements have taken Michael Boder to the San Francisco Opera, the New National Theatre in Tokyo, the Deutsche Oper in Berlin and the Zurich Opera. Among the leading international orchestras that he has conducted are the Leipzig Gewandhaus Orchestra, the Lisbon Gulbenkian Orchestra, the Oslo Philharmonic, the NHK Symphony Orchestra of Tokyo and the Hamburg, Berlin and Vienna Philharmonics. Michael Boder made his debut with the Berliner Philharmoniker in June 2003. His most recent appearances were as co-conductor of Stockhausen's Gruppen for three orchestras, which was performed as part of the Berlin Music Festival in September 2008.
Anja Kampe studied at the Carl Maria von Weber Academy of Music in Dresden and at the Giuseppe Verdi Conservatory in Turin. From 1997 she was also a member of the Opera Studio at La Scala, Milan. Among her many awards are a first prize in the G. B. Viotti Singing Competition in Vercelli and the audience prize at the third International Competition for Wagner Voices at Saarbrücken. Early operatic engagements took the young singer not only to Italy, where she appeared as Marcellina in Le nozze di Figaro at the Ferrara Musica Festival under the direction of Claudio Abbado, but also to France and Israel. She made her Bayreuth Festival debut in 2002 as Freia in Das Rheingold and the following year sang Sieglinde in Die Walküre in Washington. Since then Anja Kampe has appeared in a wide-ranging repertory that includes works by Rossini, Mozart, Beethoven, Wagner, Verdi, Tchaikovsky, Janáček and Richard Strauss and that has taken her to many of the world's leading opera houses, including Madrid, Antwerp, Brussels, Munich, Frankfurt, London, Tokyo and Los Angeles as well as the Glyndebourne Festival. The present concerts mark Anja Kampe's debut with the Berliner Philharmoniker.