Mahler: Symphony No. 3 / Mehta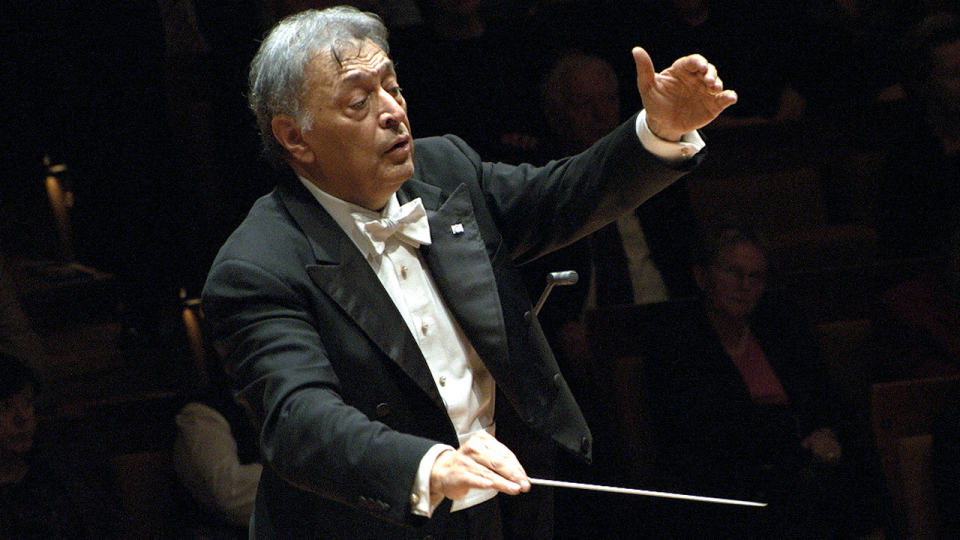 21/12/2008
Berliner Philharmoniker
Zubin Mehta
Lioba Braun
Gustav Mahler
Symphony No. 3 (01:38:00)

Lioba Braun Contralto, Rundfunkchor Berlin, Robin Gritton Chorus Master, Tölzer Knabenchor, Gerhard Schmidt-Gaden Chorus Master
The natural philosophers of the 19th century would have adored this work. As overwhelming as Gustav Mahler's Third Symphony is in its dimensions, as astounding it is in expressing the primordial experience of nature, which this piece focuses on. Perhaps it is not even going too far to describe the work itself as a natural phenomenon, one that widens the scope of the symphony by expanding its forms. Zubin Mehta stands on the Philharmoniker's rostrum, a conductor with one of the longest affiliations with the orchestra. The team also includes other guests familiar to Scharoun's concert hall: the alto Lioba Braun as well as the Rundfunkchor Berlin and the Tölzer Knabenchor.
Around the World in Six Movements
Gustav Mahler's Third Symphony
Mahler was 33 years old and Kapellmeister of Hamburg's Municipal Theatre in 1895 when his plan came to fruition for a work "in which the entire world would indeed be reflected – one is, so to speak, only an instrument played upon by the universe". Writing a symphony, as he now defined it, meant "constructing a world with all the technical means at one's disposal. The eternally new and changing content determines its own form." He wrote to a friend that he was composing a work in seven movements with the title The Joyful Science – A Summer Morning's Dream:
I. Summer marches in.
II. What the flowers in the meadow tell me.
III. What the beasts of the forest tell me.
IV. What the night tells me.
V. What the morning bells tell me.
VI. What love tells me.
VII. Life in heaven.
Similar lists, though with constantly evolving details, appear in several of Mahler's letters and documents. The new work was for a time entitled Pan, intended as a "wild" depiction of nature. In this scenario, the first movement would be called "What the mountains tell me"; the "Night" of the fourth movement would represent "Humanity"; the "Morning Bells" of the fifth were now the "Angels"; "Love" in the sixth gave way to "God"; and the seventh movement disappeared altogether, to be transferred to the Fourth Symphony. But the basic idea remained: "In a sense my work is a musical poem, encompassing every stage of evolution, ascending stepwise. – It begins with lifeless nature and rises to the love of God!"
Later Mahler decided that his pointers to understanding the first three symphonies could be misleading and he declared: "Away with programmes that arouse false notions. Leave the audience its own thoughts on the work being performed; do not force it to read while the music is being played; do not teach it to be prejudiced!" He destroyed the old descriptions, and refused to provide new ones – nothing, however, indicates that he ever repudiated his originally stated programmatic intentions.
Before confronting the monumental opening movement (in 1896), Mahler had first to come to terms with the other parts (mainly in 1895). The symphony is launched with a rising fourth – an omnipresent interval in early Mahler. Eight horns in unison sound the call with a march theme that binds the whole work cyclically together. The first movement's tempo indication, "Kräftig. Entschieden" – "Forcefully and resolutely", is followed in the course of the work by markings like "sentimental", "garish", "with fearsome violence", "with mysterious haste", "crudely", "nobly" – no extreme is shunned by a composer for whom a symphony was meant to encompass "the entire world".
Concealed in the primeval utterance of this symphonic opening, whose "sounds of nature" Mahler stage-manages like raw aural elements, is a mighty sonata-form movement in D minor/F major. The remaining five movements are all grouped into a "second part": movements 2 and 3 – a quasi-minuet and a quasi-scherzo – recapture something of the dance character of the Classical symphony; movements 4 to 6 – orchestral song, cantata movement, Adagio – despite their contrasting character, are treated by Mahler as a through-composed unit.
The third movement paraphrases Mahler's early song Ablösung im Sommer. In bringing in a posthorn "as if heard from a great distance" and "played freely", Mahler was not thinking of revolutionizing orchestration – Mozart had long ago used this evocative instrument in his Serenade K.320 – but rather of a poem by Nikolaus Lenau, Der Postillon: "Lovely was the night in May, / Silvery little clouds floated above..." – an ambivalent scene-setting which, like Ablösung im Sommer, is also preoccupied with death.
In movement 4, Lenau's "May Night" darkens into Friedrich Nietzsche's "world night", as a solo contralto intones a text from Also sprach Zarathustra, a work whose "poetic fervour", according to Mahler's friend and colleague Bruno Walter, "had fired up the composer". This leads directly into a choral movement, again featuring the solo contralto, on a text from Des Knaben Wunderhorn, the collection of "old German songs" by Achim von Arnim and Clemens Brentano, which so profoundly inspired Mahler in composing many of his earlier symphonies and lieder.
The Third Symphony concludes with a vast Adagio in D major, which has been called Mahler's first Klangflächenkomposition, a 20th-century concept that refers to composition in layers, stressing mass and texture over clearly articulated melody and rhythm. The first theme of this grand orchestral hymn clearly pays homage to the finale of Brahms's First Symphony – Mahler revered the "old man" and visited him at his summer retreats. But it also takes up the vehement, thrusting march theme of the first movement and, as Mahler described it with an allusion to Greek mythology, "finally brings Ixion's fiery spinning wheel to a standstill".
Zubin Mehta and the Berliner Philharmoniker can look back on a long musical partnership that started in September 1961. Mehta was born in Bombay in 1936 and studied under Hans Swarowsky at the Vienna Academy of Music. The winner of the 1958 International Conductors' Competition in Liverpool and of the Koussevitzky Competition in Tanglewood, he was by his mid-twenties already principal conductor of the Montreal Symphony Orchestra, where he remained from 1961 to 1967, while holding a similar appointment in Los Angeles from 1962 to 1978. Also at this time he made his debut with the Vienna Philharmonic and replaced an ailing Eugene Ormandy at the helm of the Israel Philharmonic, becoming the Israel PO's music director in 1977. Since 1985 he has also been principal conductor of the Teatro del Maggio Musicale in Florence: both institutions have named him their conductor for life. He was also principal conductor of the New York Philharmonic from 1978 to 1991. In addition to his engagements in the concert hall, Zubin Mehta has also appeared in many of the world's leading opera houses and from 1998 to 2006 was general music director of the Bavarian State Opera and Orchestra in Munich. Among the numerous honours that Zubin Mehta has received are the United Nations' Lifetime Achievement Peace and Tolerance Award in 1999, membership of the French Legion of Honour in 2001 and the Bavarian Order of Merit in 2005. His most recent appearance with the Berliner Philharmoniker was two years ago, when he conducted another Mahler symphony (No. 7). He will return in January 2009 for a programme of works by Elliott Carter, Beethoven and Strauss.
The Rundfunkchor Berlin, founded in 1925, is the oldest radio choir in Germany. Famous German conductors such as George Szell, Hermann Scherchen, Otto Klemperer and Erich Kleiber conducted concerts and radio broadcasts with the choir during the 1920s and 1930s. After the Second World War, principal conductor Helmut Koch established its reputation as a Handel specialist on tours which took it through most countries of Europe. Dietrich Knothe (1982 – 1993) developed the tradition of performing premieres of contemporary music; Robin Gritton took over the leadership in 1994. Since 2001 Simon Halsey has infected the Rundfunkchor with his enthusiasm and vitality.
Made up of 64 full-time professional singers, the choir appears in approx. 50 concerts worldwide each season. An impeccable and meaningful declamation of the text in any language required is the basis and starting-point for the choir's work. It has built particularly close relationships with the Deutsches Symphonie-Orchester under Ingo Metzmacher, the Rundfunk Sinfonieorchester Berlin under Marek Janowski and the Berliner Philharmoniker under Sir Simon Rattle. Its high standard, wide-ranging repertoire and versatility are borne out by long list of award-winning CD releases. The recording of Brahms' Deutsches Requiem under Sir Simon Rattle received the 2008 Grammy Award for the best choral recording. Under Halsey's direction, the choir also initiated a number of new projects: specific youth programmes, traineeships for selected young professional singers and a sing-along concert once a year. With its series Broadening the Scope of Choral Music the Rundfunkchor Berlin explores a dialogue with other art forms in innovative and scenic projects.