Brahms · Dvořák / Rattle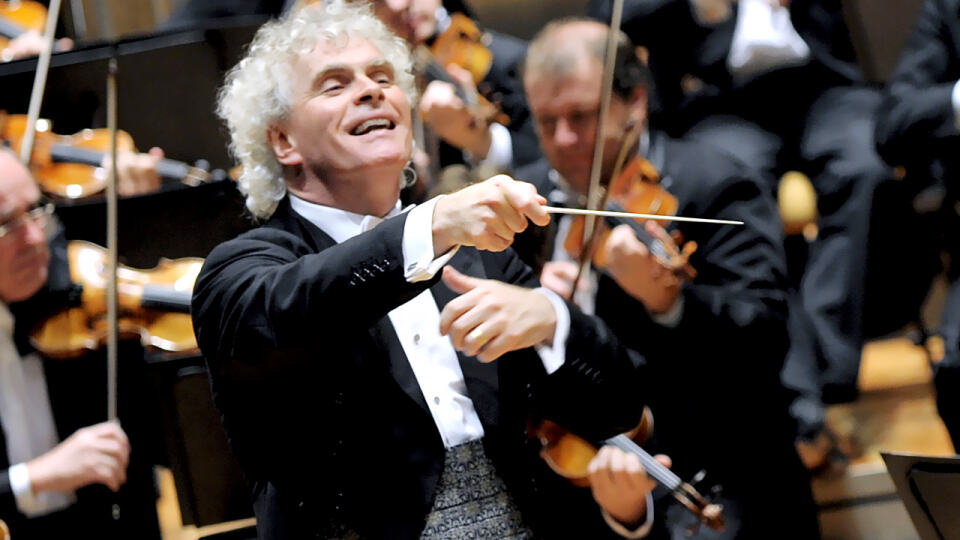 06/01/2009
Berliner Philharmoniker
Sir Simon Rattle
Antonín Dvořák
Slavonic Dance in G minor Op.46 No. 8 (25:14)

Johannes Brahms
Symphony No. 1 in C minor (50:32)
With this special concert we celebrate the opening of the Digital Concert Hall with the Berliner Philharmoniker and Sir Simon Rattle. Die Digital Concert Hall will be presented to the audience as part of the programme.
A "talented individual" and his benefactor
Works by Antonín Dvořák and Johannes Brahms
Like his fellow countryman Bedřich Smetana – his elder by only seventeen years – Antonín Dvořák is one of those composers who, like the proverbial prophet, long remained unacknowledged in his own country. For years he eked out a living in Prague, earning a pittance as a viola player and organist, while tirelessly working away at scores that were destined in the shorter term to remain unperformed. Not until the end of 1871 was any of his music performed in Prague. Throughout this period he applied for grants to support him, including one from the Viennese Ministry of Education in July 1874, a scholarship he went on to win five times in a row. More decisive for his subsequent career, however, was his encounter with Brahms, who from 1875 was a member of the Ministry's panel of judges and an enthusiastic champion of his Czech colleague's music: "For several years I've been delighted by works by Anton Dvořák of Prague", he wrote to his publisher Fritz Simrock in December 1877. "He's certainly a very talented individual." It was Brahms who persuaded Dvořák to send his duets for two sopranos and piano to Simrock. Simrock recognized their composer's potential and in 1877, suspecting, quite rightly, that they would prove a commercial success, published them under the title of Moravian Duets.
Simrock knew very well what his contemporaries liked: national colour in a Romantic setting, scored for domestic resources and, therefore, not too difficult to perform. In much the same spirit he immediately invited the composer to write his Slavonic Dances op. 46: "So that we understand each other about these dances, let me say that I do not mean that they should literally be dances for dancing to but should be more like the way Brahms reworked his Hungarian dances, except that they should probably be easier – not childishly simple, but brilliant and effective, with changing moods and colours, changing, too, in their sentiments, and not too short. […] Don't rush them, but seek out some genuinely pretty, 'unforgettable' tunes, I'm sure you'll find some in the Slavonic repertory and within yourself?" Dvořák set to work at once. The result was to mark his international breakthrough as a composer, his Slavonic Dances provoking a veritable assault on music shops. With the exception of No. 2, all the op. 46 Slavonic Dances are inspired by Czech folk dances: No. 8, for example, is a wildly irascible furiant with syncopated rhythms, constantly switching between major and minor. Such was the success of the set that Simrock understandably tried to persuade the composer to prepare a second series of dances, an attempt in which he was by no means alone. "To do the same thing twice is damnably difficult," Dvořák responded, but he still managed to produce a second set of eight Slavonic Dances op. 72, completing them within the space of a single month during the summer of 1886.
Melanie Unseld
By contrast, Simrock spent years trying to persuade Johannes Brahms to write his first symphony ("Stop prevaricating – I shan't leave you a moment's peace!"), and it took considerable persistence on his part before Brahms finally submitted his First Symphony in C minor op. 68 for publication. The difficulties that confronted Brahms as he tackled the genre for the first time seemed altogether insuperable, so powerful was the Beethovenian legacy. His apprehension was in no way mitigated by the famous article, "New Paths", that his new-found friend Robert Schumann had published in October 1853, predicting great things for the young man: "When once he lowers his magic wand over the massed resources of chorus and orchestra, we may expect the most wonderful insights into the secrets of the spirit world. May the highest genius lend him strength; and well it may, for in him resides a second genius – namely, that of modesty." There is some evidence that this modesty, coupled with the afore-mentioned scruples that Brahms felt at the thought of being "stalked" by the "giant" Beethoven, contributed to the fact that it was not until 1876 that he completed his First Symphony. Even so, it is clear from a letter that he wrote to his friend and publisher Fritz Simrock on 5 October 1876 that he was convinced that what he had written was not without merit: "A beautiful symphony has been left dangling from the Wissower Klinken." (The Wissower Klinken were chalk cliffs on the island of Rügen, where Brahms spent the summer of 1876, working on his score.)
The first person to hear the long-awaited symphony, at least unofficially, was Clara Schumann: "Johannes played me two movements of a symphony, which I found enormously interesting – I'm waiting for the other two movements before passing judgement", she wrote in her diary on 25 September 1876. "These two (the 1st and the last) are magnificent, full of verve and ideas from start to finish, only the melodies strike me as rather thin, but I really must hear the whole work!" When Clara finally heard the two missing movements, her comments in her diary were distinctly unenthusiastic: "I cannot deny that I felt saddened and disheartened for it doesn't seem to me to compare with some of his other works such as the F minor Quintet, the sextets and the piano quartets. I miss the sweeping melodies, however ingenious the writing may otherwise be." But Brahms would not be deterred, and with "the speed of a little brown bug", as he expressed himself in a letter to the conductor Otto Dessoff, he set about organizing the symphony's first performance, which took place under Dessoff in Karlsruhe on 4 November 1876.
The Symphony in C minor begins with a series of powerfully expansive timpani strokes, providing a pedal point to chromatic writing that leads inexorably from this ominous opening section, marked "Un poco sostenuto", to the ensuing Allegro. It is the violins whose musical line appears to swell by semitone steps, and it is the winds, with their descending thirds, that create the mood of melancholy that permeates the whole of the movement, their ponderous tread suggestive of laboured breathing. The Allegro is correspondingly discursive in structure, Brahms allowing himself time to formulate his thoughts and develop his themes. Nor does he shy away from exploring remote tonalities. And yet everything is clearly thought through, nothing is merely arbitrary. The overriding impression is that of a cortège. The two middle movements eschew this monumentality. Not only are they much shorter, they also seem somehow alien: "However beautiful they are in themselves," commented the conductor Hermann Levi on the occasion of the symphony's second performance, again in Karlsruhe, but this time under Brahms himself, "they seem to me to be better suited to a serenade or a suite than to a symphony that is otherwise laid out along such elaborate lines." Whereas the Andante sostenuto in E major captivates its listeners above all through its woodwind writing and its final beguiling violin solo, the third movement, headed "Un poco allegretto e grazioso", seems like an intermezzo, its structure and tone colour recalling the composer's later piano intermezzos. The ternary-structure finale (Adagio – Più Andante – Allegro non troppo, ma con brio) reveals Beethoven's parentage in no uncertain terms. Not only does the symphony move from C minor to C major in a process reminiscent of the older composer's Fifth Symphony, but the melody of the Allegro inevitably recalls Beethoven's setting of Schiller's ode "To Joy". Brahms must often have been reminded of this similarity, provoking him into commenting wryly on one occasion: "Yes, and even more remarkable is the fact that every fool can hear it straightaway." But the alphorn melody that Brahms described as "Clara's" and the embryonic chorale at the start of the final movement are also reminiscences of the final movement of Beethoven's Sixth Symphony, the main theme of which is likewise intended to recall the sound of an alphorn. The fourth movement, finally, is the only movement in the symphony in which Brahms uses trombones, achieving a very particular effect, notably in the Allegro section's radiant C major theme and in the skilfully constructed coda. The final bars are so brilliant and effervescent that at this point we can actually hear Brahms escaping from the "giant" and striking out along "new paths".
Christine Mellich
Translation: Stewart Spencer
Sir Simon Rattle appears by kind permission of EMI Classics.