Emmanuelle Haïm conducts Handel's "La resurrezione"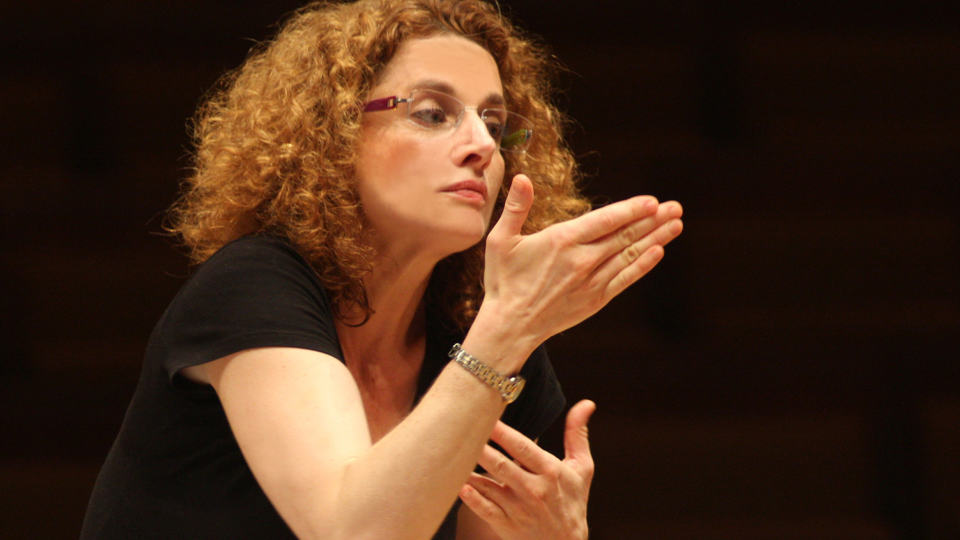 The concert you have chosen is currently being edited and will be available soon.
31/10/2014
Berliner Philharmoniker
Emmanuelle Haïm
Camilla Tilling, Christiane Karg, Topi Lehtipuu, Sonia Prina, Christopher Purves
George Frideric Handel
La resurrezione (Resurrection)

Camilla Tilling Soprano (Angelo), Christiane Karg Soprano (Maddalena), Topi Lehtipuu Tenor (San Giovanni), Sonia Prina Contralto (Maria Cleofe), Christopher Purves Baritone (Lucifero)
What a memorable concert: on one evening, namely on 5 March 2008, two women conductors debuted with the Berliner Philharmoniker. Susanna Mälkki conducted works by Anton Webern and Igor Stravinsky; Emmanuelle Haïm conducted George Frideric Handel's Ode for St. Cecilia's Day. The exuberant Frenchwoman, who impressed with her lively body language as well as her profound skill, was not, however, working with the orchestra for the first time. In 2002 she played basso continuo on the positive organ when Sir Simon Rattle conducted a performance of Bach's St John Passion. Already then she was convincing as an expert in Baroque performance practice. At her next philharmonic performance in 2011 with instrumental works by Jean-Philippe Rameau and George Frideric Handel, listeners were able to experience her in her dual function as conductor and harpsichordist. "It's so natural for me to conduct from the harpsichord. I feel more strongly connected with the other musicians," she disclosed in an interview for the Digital Concert Hall.
At these concerts, too, she will conduct a work by Handel: the oratorio La resurrezione, which the 23-year old composer wrote in Rome in 1708. In this work, angels and devils dispute and philosophise about the significance of the resurrection of Christ. Despite its religious content, Handel incurred the displeasure of Pope Clement XI because he had a woman sing the soprano part. You can hear Camilla Tilling at these concerts – without reproach from the Pope. Christopher Purves will interpret the devil, her counterpart. Other soloists include soprano Christiane Karg, alto Sonia Prina and tenor Topi Lehtipuu.
Grand Baroque World Theatre
Handel's Roman oratorio La Resurrezione
Handel didn't stay put in Halle. Not even in Hamburg, although the Hanseatic city had all sorts of positions, attractions and opportunities to offer its composers, especially the daring and enterprising ones. The question that does not arise is what would have happened had Georg Friedrich Händel remained in his birthplace Halle as organist of the Calvinist cathedral or had sought to succeed Buxtehude in Lübeck, or even taken a position at one of the Hamburg churches. Over the long haul, Handel would not have been able to fit in to the tradition of Protestant cantors. This musician had, ever since his youth, been accustomed and amenable to taking his destiny into his own hands. In Hamburg, the 18-year-old doctor's son was engaged as an orchestral violinist and continuo harpsichordist at the opera – less than two years later his first operas, Almira and Nero were staged there. A year later, in the summer of 1706, Handel set off on his big Italian journey. Hardly had he arrived in the south before he found himself in the midst of the musical scene, admired and sponsored by powerful patrons, splendour-worshipping cardinals and art-minded princes. One of them, Gian Gastone de' Medici, had recognized the young Handel's extraordinary gifts on a visit to Hamburg and promptly invited him to Florence. He also introduced him to the finest recent examples of Italian music, which Handel – with the arrogance of immaturity – dismissed as mediocre and worthless.
Most of Handel's Italian sojourn actually took him not to Florence but to Rome. There, however, the nobility's passion for music was put to the test. Their beloved opera, the dramma per musica, had – like Carnival and indeed all spettacoli and worldly pleasures – fallen into disrepute in the capitals of the Papal States and periodically even been banned altogether by Papal decree. But the musical benefactors soon discovered a new field of activity: the oratorio which, thanks to its historical Roman origins in St. Filippo Neri's popular devotional gatherings and "spiritual exercises", seemed unimpeachable. The choice of subjects from the Bible and lives of the saints, the glorification of Christian virtues, asceticism and contempt for earthly life, and, not least, theological indoctrination – all these meshed perfectly with the declared Papal demand for spiritual purification, yet without condemning aristocratic music enthusiasts (and opera aficionados) to radical abstemiousness. In fact, musical drama has endured far worse than those days of Roman Catholic "prohibition".
The Salvation story on three levels
ForHandel's second oratorio, La Resurrezione di Nostro Signor Gesù Cristo (HWV 47), the composer's patron Marquis Francesco Maria Ruspoli, who commissioned the work, had a terraced teatro a scalinata built in the Palazzo Bonelli (now Valentini) in Rome. The performance took place on a kind of stage set, in which a monumental depiction of the Resurrection painted on canvas, replete with putti, cherubs and demons, served as backdrop. This in itself lent a scenic, illusionist aspect to the Easter 1708 performances on 8 and 9 April, transporting their illustrious audiences in Ruspoli's private theatre into a state of devotional wonder. The author of this sacred play for Easter Sunday had been an experienced opera librettist, the Roman poet-scholar Carlo Sigismondo Capece (1652‒1728). For the Oratorio of the Resurrection of Our Lord Jesus Christ he compiled a free paraphrase of the "reports" from the concluding chapters of the four Gospels and placed three biblical actors on the stage of the Palazzo Bonelli (which really ought not to have been a stage at all): the "Beloved Disciple" and reputed evangelist John, Mary Magdalene and the "other Mary", the wife of Cleophas. The scenes in Jerusalem, however, are framed and theologically inflated by the verbally powerful dispute over principles between an Angel and Lucifer (based on motifs from the Apocalypse and the Harrowing of Hell from the apocryphal Gospel of Nicodemus) – and thus through the all-important power struggle between light and darkness. Grand Baroque world theatre: heaven, earth and hell, the Christian story of salvation on three levels – and an incomparable challenge for the young German composer.
The 23-year-old Giorgio Federico Hendel (as he is named in the libretto) already proved himself in this Italian early work as an unsurpassable master of vocal and instrumental art. The opulent orchestral forces – led by no less than Arcangelo Corelli – comprised 22 violins, four violas, five cellos, a viola da gamba, five double basses, two trumpets, trombone, four oboes, two recorders, transverse flute and bassoon, as well as a variable continuo group including lute and theorbo: a scoring that Handel deploys with the greatest subtlety, originality, flexibility and fantasy. From the harpsichord, he shared the premiere performances' musical direction with Corelli. Standing in the midst of the musicians' concertante interplay – the term "accompaniment" would be an affront – were five singers who, with a single exception, had all been engaged as guest stars.
The music has its rationale
The expressive radius of the arias that Handel wrote for this select cast extends from artful simplicity and naturalness – corresponding to the prevailing "Arcadian" ideal – to finely fashioned cantilena to the crazed Lucifer's craggy vocal line with its awkward intervallic leaps. Mary Magdalene's lament, in pastoral vein, adorned by recorders and muted violins (No. 8, Aria "Ferma l'ali"), conjures a bucolic idyll, as though Handel wanted musically to rescind the words of lamentation and remorse. And in the aria "Quando è parto dell'affetto" (No. 11), St. John extols the gift of constancy ("la costanza"), the key concept of the theologically captious text dissolves into inconstant, flighty coloratura: the music, too, has its rationale. Handel was also clearly more than capable of devising a somewhat supplicatory setting in the service of good tidings, for example in No. 25, "Del ciglio dolente", another of the Magdalene's arias. By means of a recurring swerve from 3/8 to 4/4 time, each time on the keyword "cangiando" (changing) he translates into music of compelling simplicity the image of the raging storm that must yield to the iridescent rainbow.
Handel ventures a similarly striking play with tempo and the sense of time in St. Mary Cleophas' allegorical aria (No. 12, "Naufragando va per l'onde"). Here he slows down the furious, "storm-lashed" semiquavers (16th notes) – symbol of the rolling waves that threaten and terrify the sailor – to a moderate motion as soon as the safety of shore comes into view: "becalming" in two senses of the word. This is an aria that has everything: a three-movement, highly virtuosic concerto, a storm painting – or "seascape" – and a miniature drama. The blood pulsing through the veins of Handel the born "stage animal" is already unmistakable in this sacred music – right from the beginning in the Angel's brilliant entrance, announcing his lord, the triumphant Christ, and storming against the gates of Hell with blazing trumpets and with the imperious vocal power and all other musical attributes of a royal herald (No. 1, Aria "Disserratevi, o porte d'Averno"). Needless to add, Handel possessed an infallible flair for composing genuinely memorable melodies for the two Marys: arias that lead their beguiling vocal lines in the most beautifully harmonious unison with the violins, tender and consolatory like a ray of light penetrating the gloomy, pre-Easter world. Pleasure and faith, the aesthetic and spiritual supports, appear in Handel's score like two sides of a single coin. Or as one and the same.
Emmanuelle Haïm studied piano with Yvonne Lefébure, organ with André Isoir and cembalo with Kenneth Gilbert and Christophe Rousset at the Paris Conservatoire National Supérieur de Musique. She soon became in demand internationally as continuo player of Baroque opera and concert repertoire. Natalie Dessay, Ian Bostridge, Philippe Jaroussky and other singing stars regularly invite her as accompanist for their solo performances. As an assistant, the musician has worked together with conductors such as William Christie, Marc Minkowski and Sir Simon Rattle. In 2000, Emmanuelle Haïm founded the Baroque ensemble Le Concert d'Astrée with other like-minded singers and instrumentalists. Furthermore, she has conducted several Baroque operas for Glyndebourne Touring Opera and the Glyndebourne Festival since 2001. She is also a regular guest with, among others, the City of Birmingham Symphony Orchestra, the Scottish Chamber Orchestra and the HR-Sinfonieorchester Frankfurt; in 2011 she gave her debut with the Los Angeles Philharmonic. Emmanuelle Haïm first conducted the Berliner Philharmoniker in March 2008 in concerts of Handel's Ode for St. Cecilia's Day HWV 76. At the invitation of the Berliner Philharmoniker Foundation, she also appeared as part of the Originalklang concert series in the Chamber Music Hall with Le Concert d'Astrée in November 2008. She last conducted the orchestra in June 2011 in a programme of Handel and Rameau; she also took on the musical direction of that year's education dance project at the Arena Berlin, which featured music of Jean-Philippe Rameau. The artist is an honorary member of the Royal Academy of Music; in France she was named Chevalier de la Légion d'honneur and Officier des Arts et des Lettres.
Christiane Karg, born in Feuchtwangen (Bavaria), received her vocal training at the Mozarteum University in Salzburg. In the summer of 2006, she made her debut at the Salzburg Festival, and since the autumn of 2008, she has been a member of Oper Frankfurt where her roles have included Susanna, Pamina, Musetta and Zdenka. She has also appeared as a guest artist at the Bavarian and the Hamburg state opera houses, the Komische Oper Berlin, the Theater an der Wien, Opéra de Lille and the Glyndebourne Festival. As a concert singer, the soprano has performed with orchestras such as the Concentus Musicus Wien, Les Arts Florissants, the NDR Sinfonieorchester, the Staatskapelle Dresden, the Philadelphia Orchestra and the Symphonieorchester des Bayerischen Rundfunks. Nikolaus Harnoncourt, Christoph Eschenbach, Thomas Hengelbrock, Christian Thielemann, and Mariss Jansons are among the conductors she has worked with. One of Christiane Karg's particular passions is lieder singing. Recitals have taken her to the Musikverein in Vienna and the Schubertiade in Schwarzenberg, the Mozarteum in Salzburg, the Philharmonie Essen, London's Wigmore Hall and the Rheingau Music Festival, among others. Christiane Karg made her debut in Berliner Philharmoniker concerts in March 2014 as soloist in Mahler's Fourth Symphony (conductor: Yannick Nézet-Séguin).
The Finnish tenor Topi Lehtipuu was born in Australia. He studied the piano and the violin as well as choral conducting and singing at the Sibelius Academy in Helsinki and made his stage debut at the Finnish National Opera in Helsinki in the title role of Britten's Albert Herring, a debut that was quickly followed by invitations to appear at the Théâtre des Champs-Élysées in Paris, the Théâtre de la Monnaie in Brussels and, back in Helsinki, a spectacular role debut as Belmonte in Die Entführung aus dem Serail. He was additionally invited by René Jacobs to take part in a production of Monteverdi's L'Orfeo that was also seen at the Staatsoper Unter den Linden. He has appeared throughout Europe, the United States of America and Japan and worked with conductors such as Ivor Bolton, William Christie, Sir John Eliot Gardiner, Riccardo Muti and Sir Simon Rattle. Topi Lehtipuu's repertory is by no means limited to the Baroque and Classical periods but also includes works by Schoenberg, Einojuhani Rautavaara, Arvo Pärt and Peter Eötvös. He first appeared with the Berliner Philharmoniker in mid-June 2005, when he took part in performances of Stravinsky's Renard under the direction of Sir Simon Rattle. Most recently, he appeared in the Peter Sellars stagings of Bach's St Matthew and St John Passions (the former on the concert tour to Lucerne, London and New York), which were also conducted by Sir Simon.
The Italian Sonia Prina studied trumpet and voice at the Milan Conservatory. Since successfully graduating in both subjects, she has focused entirely on singing. With her large, flexible contralto, she prefers to devote herself to the Baroque repertoire; the works of Handel are particularly close to her heart. Sonia Prina is now one of the leading performers in this field. She has worked both with specialist ensembles such as the Accademia Bizantina, Il Giardino Armonico and Le Concert d'Astrée and has sung in major opera houses in Europe, South America and Japan. With Emmanuelle Haїm, she has already worked together on the title role in Handel's Giulio Cesare and Orlando. Sonia Prina has also given acclaimed performances as Orlando in Sydney and Frankfurt. Highlights of her career include the title role in Handel's Rinaldo at La Scala and the Glyndebourne Festival, Mozart's Ascanio in Alba at the Salzburg Festival (2006), the role of Clarice in Rossini's La pietra di Paragone at the Théâtre du Châtelet in Paris, and Tamerlano at Bavarian State Opera. Sonia Prina has won many awards, including the Premio Abbiati, the Italian critics award. These concerts mark her debut with the Berliner Philharmoniker.
Christopher Purves is from Cambridge and sang in the university's famous King's College Choir while studying English in his home town. After graduating, he spent several years as a member of the rock band Harvey and the Wallbangers before continuing his vocal training. His career as a classical singer began with engagements with Baroque ensembles such as the all-male choir The Sixteen. He made his debut at English National Opera as Masetto in DonGiovanni. Christopher Purves has close ties with the opera director Richard Jones, with whom he prepared roles such as Berg's Wozzeck at Welsh National Opera, Tonio (Pagliacci) at English National Opera and the title role in Falstaff at the Glyndebourne Festival. Other engagements have taken him to Houston Grand Opera, Dutch National Opera, Bavarian State Opera and Opéra de Lille. His appearances as a concert singer include with the Orchestra of the Age of Enlightenment, the Gabrieli Consort and the London Philharmonic Orchestra. In these concerts, Christopher Purves makes his first guest appearance with the Berliner Philharmoniker.
Camilla Tilling hails from Linköping in Sweden. She studied at the University of Gothenburg and at London's Royal College of Music. She has already appeared in many leading opera houses in Europe and the United States of America as well as the Glyndebourne, Drottningholm and Aix-en-Provence Festivals. Among the conductors with whom she has worked are Semyon Bychkov, Sir John Eliot Gardiner, Marc Minkowski, Seiji Ozawa and Sir Simon Rattle. Her operatic repertory extends from Handel and Mozart to Rossini, Verdi and Strauss and also includes roles by Debussy and Britten. Among the international concert halls and recital rooms where she has appeared are the Royal Albert Hall for the BBC Promenade Concerts, the Wigmore Hall in London and Carnegie Hall in New York. Camilla Tilling made her debut with the Berliner Philharmoniker in December 2007, when she took part in performances of Handel's Messiah under the direction of William Christie. She was equally part of the cast in the staged performances of Bach's St Matthew and St John Passions in the 2013/14 season as well as on tour this autumn.