Rhythm is it!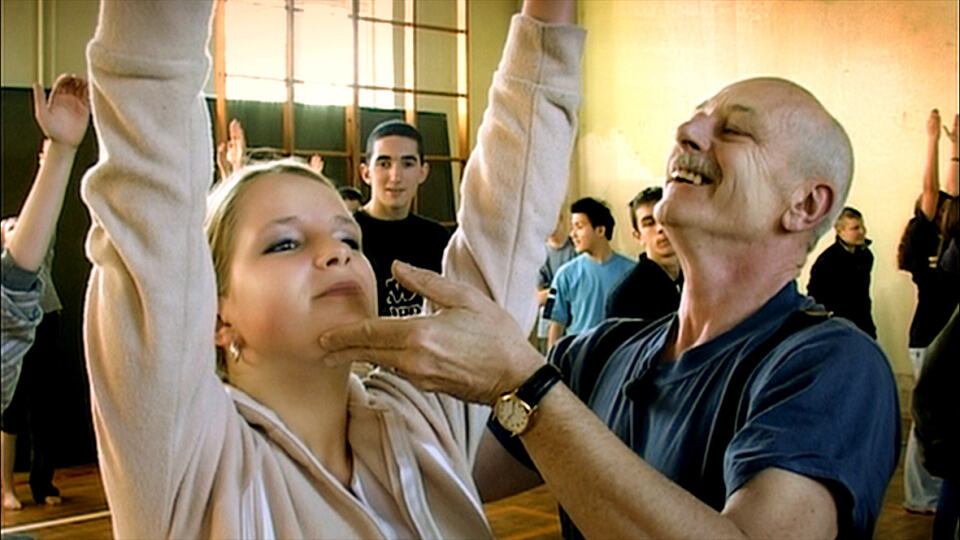 Rhythm is it!
A film by Thomas Grube, Enrique Sánchez Lansch (2004)
Sir Simon Rattle, Suz Broughton, Martin Eisentraut, Royston Maldoom, Olayinka Shitu, Marie Theinert, Berliner Philharmoniker
100 min.
Rarely has a documentary about classical music met with such a response or received so many awards as the film Rhythm Is It!, which has been shown in cinemas all around the world. The German weekly Die Zeit went so far as to demand that "Rhythm Is It! be compulsory in all schools". This film is not only about great music from the past but about things that concern us all: How do young people develop their talents? How can creativity change all of our lives? There are also stunning dance scenes and fantastic music played by the Berliner Philharmoniker conducted by Sir Simon Rattle. Rhythm Is It! is now available in the video archive of the Digital Concert Hall.
It was in January 2003, Simon Rattle's first season as principal conductor of the Berliner Philharmoniker, when 250 Berlin schoolchildren came together for this unique project. Accompanied by such world-class musicians and trained by choreographer Royston Maldoom, these young people from 25 different national backgrounds danced Stravinsky's Le Sacre du printemps, one of the most famous ballets of the 20th century. 
Rhythm Is It! follows three of the young dancers during the twelve-week rehearsal period. In this time they experience highs and lows, insecurity, self-confidence, doubt and enthusiasm: an emotional journey into new and undreamt-of worlds, discovering sides to themselves they never knew existed. Directors Thomas Grube and Enrique Sánchez Lansch skilfully interweave the workshops with the rehearsals of the Berliner Philharmoniker. Rhythm Is It! offers a unique insight into the educational work of the orchestra which, thanks to the generous support of Deutsche Bank, has set standards on a global scale.
Berliner Philharmoniker
Sir Simon Rattle, Conductor
Royston Maldoom
Susannah Broughton, Volker Eisenach
Martin Eisentraut, Olayinka Shitu, Marie Theinert
And 250 kids from
Heinz Brandt Oberschule, Berlin Weißensee
Faster Than Light Dance Company, Berlin Reinickendorf
Hannah Höch Grundschule, Berlin Reinickendorf
Lenau Grundschule, Berlin Kreuzberg
Heinrich Mann Oberschule, Berlin Buckow
Tanzwerkstatt No Limit, Berlin Weißensee
Directors: Thomas Grube and Enrique Sánchez Lansch
Producers: Uwe Dierks, Andrea Thilo, Thomas Grube
Co-Producer: Frank Evers
Cinematography: René Dame, Marcus Winterbauer
Sound: Pascal Capitolin, Michael Laube
Editors: Dirk Grau, Martin Hoffmann
Original Music: Igor Stravinsky (1882–1971)
Score Composer: Karim Sebastian Elias
Choreography: Rosyton Maldoom
Assistant Choreographers: Susannah Broughton, Volker Eisenach
A BOOMTOWNMEDIA production in co-production with Cine Plus, co-financed by RBB Rundfunk Berlin Brandenburg/Arte and in cooperation with Berliner Philharmoniker Zukunft@BPhil and Dance United, funded by Medienboard Berlin-Brandenburg. Im Verleih der Piffl Medien. Verleih gefördert von FFA und Medienboard Berlin-Brandenburg. © 2004 BOOMTOWNMEDIA GmbH & Co KG Berlin.
Rhythm Is It! has been shown in cinemas and on television in more than 20 countries and has won many awards: German Film Awards 2005 (Best Documentary, Best Editing), Bavarian Film Awards 2004 (Best Documentary), Fribourg International Film Festival 2004 (Public Award), Filmhaus Award, Saarbrücken (Franz Hofer Prize 2005), 23rd Minneapolis Int. Film Festival 2004 (Audience Award), Nashville Int. Film Festival (Gibson Award for Impact of Music), Clarion Award 2005 (Performing Arts), Dance Screen Brighton 2005 (Best Performance Relay), German Cinema Guild 2005 (Best Documentary), Association of German Critics (Critics Award 2005), Echo Classic Award 2006 (Best DVD of the Year), German Record Critics Annual Award 2006 (Best DVD of the Year), Royal Philharmonic Society (Nomination for RPS Music Award 2006)