Digital Concert Hall: highlights of the past years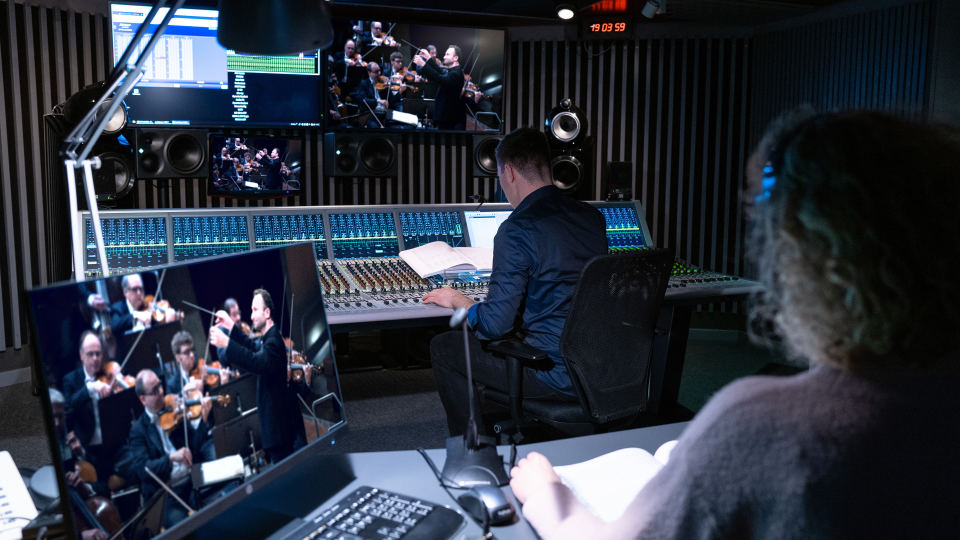 Richard Wagner
Lohengrin: Prelude to Act 3 (

3 min.

)

Berliner Philharmoniker

Gustavo Dudamel

Johannes Brahms
Concerto for Piano and Orchestra No. 1 in D minor, op. 15 (

57 min.

)

Berliner Philharmoniker

Sir Simon Rattle

Krystian Zimerman Piano

George Gershwin
Strike up the Band: Overture (

7 min.

)

Berliner Philharmoniker

Seiji Ozawa

Ludwig van Beethoven
Symphony No. 3 in E flat major, op. 55 "Eroica" (

49 min.

)

Berliner Philharmoniker

Herbert von Karajan

Richard Strauss
Arabella: Prelude to Act 3 · Duet "Sie woll'n mich heiraten" · Duet "Und du wirst mein Gebieter sein" (

20 min.

)

Berliner Philharmoniker

Christian Thielemann

Renée Fleming Soprano, Thomas Hampson Baritone

Felix Mendelssohn
Concerto for Violin and Orchestra in E minor, op. 64 (

34 min.

)

Berliner Philharmoniker

Sir Simon Rattle

Vilde Frang Violin

Betsy Jolas
A Little Summer Suite (première) (

13 min.

)

Berliner Philharmoniker

Sir Simon Rattle

Jean Sibelius
Lemminkäinen Suite, op. 22: No. 2 The Swan of Tuonela (

11 min.

)

Berliner Philharmoniker

Sir Simon Rattle

Bruno Delepelaire Cello, Dominik Wollenweber Cor Anglais

Sergei Prokofiev
Concerto for Piano and Orchestra No. 2 in G minor, op. 16 (

35 min.

)

Berliner Philharmoniker

Paavo Järvi

Yuja Wang Piano

Wolfgang Amadeus Mozart
Symphony No. 35 in D major, K. 385 "Haffner" (

23 min.

)

Berliner Philharmoniker

Claudio Abbado

Alexander Scriabin
Le Poème de l'extase, op. 54 (

25 min.

)

Berliner Philharmoniker

Kirill Petrenko

Ludwig van Beethoven
Symphony No. 5 in C minor, op. 67 (

37 min.

)

Berliner Philharmoniker

Sir Simon Rattle

Gustav Mahler
Lieder eines fahrenden Gesellen (

19 min.

)

Berliner Philharmoniker

Sir Simon Rattle

Christian Gerhaher Baritone

Robert Schumann
Concerto for Piano and Orchestra in A minor, op. 54 (

36 min.

)

Berliner Philharmoniker

Riccardo Chailly

Martha Argerich Piano

Edward Elgar
Pomp and Circumstance, op. 39: March No. 1 (

7 min.

)

Berliner Philharmoniker

Sir Simon Rattle
Friends of the Berliner Philharmoniker are scattered around the globe, and very few of them ever have the opportunity to experience the orchestra live in the Philharmonie. But there is an alternative: the Digital Concert Hall, which has been broadcasting all Philharmoniker concert programmes live since the 2008/2009 season – in the best possible picture and sound quality. Our playlist presents some prestigious highlights from the concert archive.
On 6 January 2009, the first broadcast took place: a special concert with Sir Simon Rattle and works by Brahms and Dvořák. Hundreds of other live concerts followed, which can be permanently accessed in the video archive. These of course include the orchestra's performances with Kirill Petrenko, who has been their chief conductor since the beginning of the 2019/2020 season.
Whereas previously only individual concerts were documented in television broadcasts and on video, the work of the Berliner Philharmoniker can now be followed almost every week. Today you can experience the repertoire from the Baroque to the present in the Digital Concert Hall. Milestones in the history of music, such as the symphonies and solo concertos by Beethoven, Brahms, Mahler and Schumann, are available in several recordings, so that, for example, the interpretive approaches of various conductors and soloists can be compared. The heart of the Digital Concert Hall – before the eyes and ears of music lovers all over the world thanks to state-of-the-art transmission technology – is the live broadcast, and thus the presence of the Berliner Philharmoniker. There are also recordings of guest performances on tour, historical concert recordings dating back to the Karajan era, documentaries about the Berliner Philharmoniker and their musical partners, interviews, and films from the education programme. The main focus, however, continues to be on live broadcasting – and subsequently the presence of the Berliner Philharmoniker. In other words, a feast for the senses awaits visitors to the Digital Concert Hall – any time they want, and available on a number of devices.